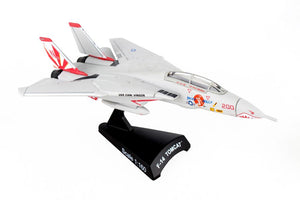 F-14 Tomcat® "Miss Molly" (1:160)
The F-14 Tomcat is a supersonic, long-range, high-endurance interceptor fighter aircraft operated by the US Navy as their primary air superiority fighter and to defend its carrier battle groups against anti-ship missiles. The F-14 has a two-seat cockpit with a bubble canopy that affords all-round visibility. It features variable geometry wings that swing automatically between 20° and 68° during flight. For high-speed intercept, they are swept back and they swing forward for lower speed flight.
The Miss Molly was one of VF-111 Sundowners' Tomcats aboard the USS Carl Vinson. The name and colorful artwork is in honor of Miss Molly Snead, who was Vinson's nurse for several years. Model is approximately 4 3/4 inches long with 2 7/8 inch wingspan. Wings are stationary.