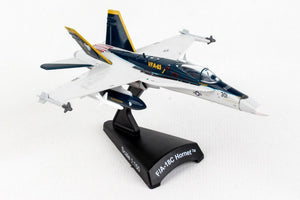 F-4 Phantom IITM Southeast Asia Camo (1:155) F/A-18C Hornet VFA-83 "Rampagers" (1:150) The F/A-18C Hornet is a multirole combat jet developed by McDonnell Douglas and Northrop during the 1970s. With a top speed of Mach 1.8 it is superb multirole warplane with the primary missions of fleet air defense, fighter escort, intercept, combat air patrol, suppression of enemy air defense, air interdiction and close air support.
Strike Fighter Squadron 83 (VFA-83), also known as the "Rampagers", is a United States Navy F/A-18 Hornet fighter squadron stationed at Naval Air Station Oceana in Virginia Beach, VA. VFA-83 is part of the Carrier Air Wing 3 and is attached to the USS Harry S. Truman (CVN-75).
This Die-cast metal airplane comes in 1:150 scale with plastic stand and model is approximately 4 inches long with 2 3/4 inch wingspan.