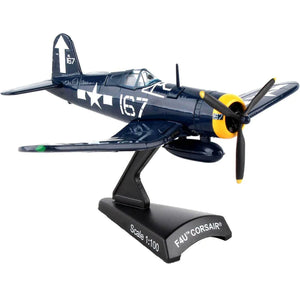 This Die-cast metal airplane model comes in 1:100 scale with plastic stand and model is approximately 4 inches long with 4 3/4 inch wingspan.
The F4U Corsair was a naval fighter aircraft used by the United States Navy and Marine Corps during World War II and the Korean War. Its excellent capabilities and performance made it very successful for the USMC. The F4U had a long production life span and was last produced in 1952. It had a max speed of 417 mph and carried six .50 caliber machine guns or four 20mm cannons, as well as a pair of 2000 lb. bombs and air rockets.
F4U aircraft #167 was assigned to the VF-84 "Wolf Gang", the USN's first day-fighter Corsair squadron. They were based on the USS Bunker Hill as part of Task Force 58 with WWII Ace Roger Hedrick as the commanding officer. VF-84's primary mission was to defend against Kamikaze attack, ground support, and combat air patrol over targets in Japan. They participated in the final drive across the central Pacific.