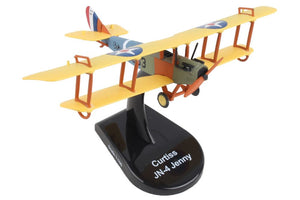 This die-cast meal model comes in 1/100 scale w/plastic stand. Model is approximately 3 1/4 inches long with 5 1/8 inch wingspan.
Curtiss JN-4 Jenny U.S. Army Air Service (1:100)
The JN-4 "Jenny" was a single-engine, 2-seater biplane built by the Curtiss Aeroplane Company as a training aircraft for the US Army. Curtiss combined the best features of the model J and model N trainers, and developed the JN or "Jenny". It was widely used during World War I to train beginning pilots, but its more significant role in aviation history was as a barnstorming and mail-carrying airplane in the 1920s.
Thousands of Jennys were sold at surplus prices to private owners in the years after the war and helped awaken the US to civil aviation through much of the 1920s. The Smithsonian acquired this Jenny in 1918 directly from the U.S. War Department. It is currently on static display at National Air and Space Museum in Chantilly, Virginia