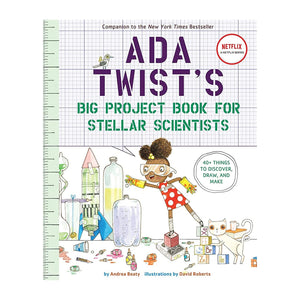 From the #1 New York Times bestselling team of Andrea Beaty and David Roberts, Ada Twist's Big Project Book for Stellar Scientists is an activity book offering kid-friendly projects of all kinds—40-plus things to discover, draw, and make—and is the perfect gift for curious young readers!
 
In this companion to the bestselling picture book, Ada Twist will help her fellow young scientists solve mysteries big and small and show how the powerful impact of scientific research is felt all around us. Do you ask questions? Is why your favorite word? Do you like to search for answers and conduct experiments? Then you're a scientist, just like Ada Twist, and this book is for you!
By Andrea Betty, Illustrated by David Roberts. Published by Abrams Books for Young Readers, 2018. Paperback, 96 pages.