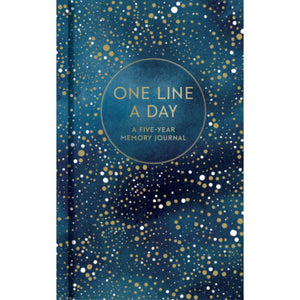 The bestselling One Line a Day journal series has sold over 2.5 million copies! This beautiful new version of the classic 5-year memory book features dreamy celestial watercolor artwork from artist and designer Yao Cheng.
 

More than a daily diary: For those daunted by the idea of keeping a journal or diary, the simple commitment of just One Line a Day is manageable for everyone. Each page includes an entry for five successive years, allowing you to revisit previous thoughts and memories on a specific day of the year over the span of five years.

Uniquely rewarding, simple to complete, and presented in an alluring package with shimmering gold foil stars and gilded page edges, this beautiful 365-day journal will become a treasure trove of memories to cherish forever.

THE EASIEST WAY TO JOURNAL DAILY: Writing a single thought or highlight each day is a great way to track progress day-by-day for 5 years, revisit thoughts and memories, and start or end your day with reflection.

UNIQUE GIFT FOR ANY OCCASION: This is a wonderful gift for celebrating a new chapter, whether beginning a new year or a new life phase. With its attractive package design, this daily journal makes an excellent gift for newlyweds, dads, moms, spouses, friends, or any loved one on birthdays, holidays, anniversaries, graduations, and all sorts of milestone celebrations.
By Yao Cheng. Published by Chronicle Books. Hardcover guided journal, 372 pages.