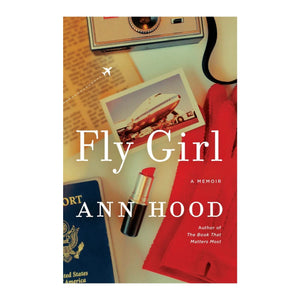 In 1978, in the tailwind of the golden age of air travel, flight attendants were the epitome of glamor and sophistication. Fresh out of college and hungry to experience the world―and maybe, one day, write about it―Ann Hood joined their ranks. After a grueling job search, Hood survived TWA's rigorous Breech Training Academy and learned to evacuate seven kinds of aircraft, deliver a baby, mix proper cocktails, administer oxygen, and stay calm no matter what the situation.
As the airline industry changed around her, Hood began to write―even drafting snatches of her first novel from the jump-seat. She reveals how the job empowered her, despite its roots in sexist standards. Packed with funny, moving, and shocking stories of life as a flight attendant, Fly Girl captures the nostalgia and magic of air travel at its height, and the thrill that remains with every takeoff.
By Ann Hood.  Published by W. W. Norton & Company, 2022.  Hardcover, 288 pages.