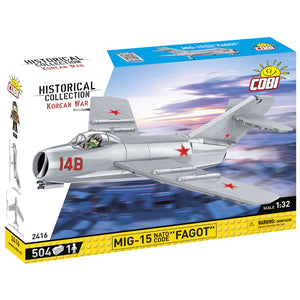 The Mikoyan MiG-15 was the first mass-produced Soviet jet fighter. It was designated in the NATO code as "Fagot". The production of jet-propelled fighters was a major qualitative leap in the military industry of the USSR. Soon the MIG-15 became an export hit and was used by the Warsaw Pact countries, as well as Asian and African countries. Machines of this type took part in many conflicts; they gained the most fame during the Korean War, fighting in the sky with the American counterpart North American F-86 "Saber".

The MIG-15 model in Soviet colors was designed in a scale of 1:32 and consists of 504 high-quality COBI elements. All markings and inscriptions on the model are prints that do not rub off during play. The set has movable elements such as wheels and an opening cabin, in which you can place a detailed pilot figure. The set includes a display stand with a plate with the name of the set and the symbol of nationality. Thanks to the intuitive instructions based on clear illustrations, the construction is simple. The plane is a must for all fans of aviation, military and military technology. It is also a perfect complement to the Armed Forces, Cold War and Korean War collections.
Comes with 504 pieces and one pilot figure. For ages 8 & up.