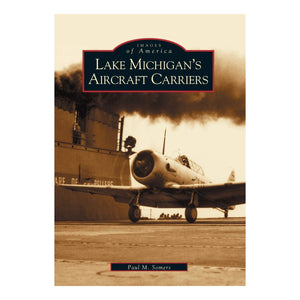 Through the duration of the war, the United States Navy qualified 17,800 pilots for aircraft carrier operation. Training the pilots on either the Atlantic or the Pacific Ocean would have exposed the training ships to the danger of submarine attack, while requiring the escort of fighting ships that were needed elsewhere. It would also have involved arming and armoring the ships used for training. Commander R.F. Whitehead came up with an idea that solved all of these problems. He suggested doing the training on the protected waters of the Great Lakes. 
The USS Wolverine and the USS Sable were chosen and became the only fresh water, paddle-wheeled, coal-fired aircraft carriers in the history of the world. Author Paul M. Somers shares his collection of vintage photos and a lifetime of research to detail the history of these two great vessels-from their life as cruise ships to their contributions to the war effort and then to their eventual scrapping. 
By Paul M. Somers. Published by Arcadia Publishing, 2003. Paperback, 128 pages.