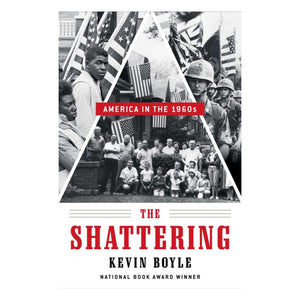 A Kirkus Reviews Best Nonfiction Book of the Year!

Kevin Boyle captures the inspiring and brutal events of this passionate time with a remarkable empathy that restores the humanity of those making this history. Often, they are everyday people like Elizabeth Eckford, enduring a hostile crowd outside her newly integrated high school in Little Rock, or Estelle Griswold, welcoming her arrest for dispensing birth control information in a Connecticut town. Political leaders also emerge in revealing detail: we track Richard Nixon's inheritances from Eisenhower and his debt to George Wallace, who forged a message of racism mixed with blue-collar grievance that Nixon imported into Republicanism.  The Shattering illuminates currents that still run through our politics. It is a history for our times.
By Kevin Boyle.  Published by W. W. Norton & Company, 2021.  Hardcover, 480 pages.