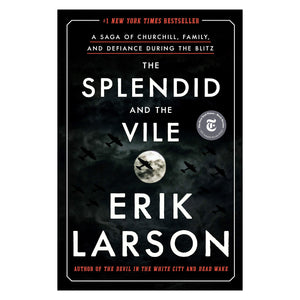 "One of [Erik Larson's] best books yet . . . perfectly timed for the moment."—Time
In The Splendid and the Vile, Erik Larson shows, in cinematic detail, how Churchill taught the British people "the art of being fearless." It is a story of political brinkmanship, but it's also an intimate domestic drama, set against the backdrop of Churchill's prime-ministerial country home, Chequers; his wartime retreat, Ditchley, where he and his entourage go when the moon is brightest, and the bombing threat is highest; and of course, 10 Downing Street in London. Drawing on diaries, original archival documents, and once-secret intelligence reports—some released only recently—Larson provides a new lens on London's darkest year through the day-to-day experience of Churchill and his family: his wife, Clementine; their youngest daughter, Mary, who chafes against her parents' wartime protectiveness; their son, Randolph, and his beautiful, unhappy wife, Pamela; Pamela's illicit lover, a dashing American emissary; and the advisers in Churchill's "Secret Circle," to whom he turns in the hardest moments.
Written by Erik Larson. Published by Crown, 2022. Paperback, 624 pages.