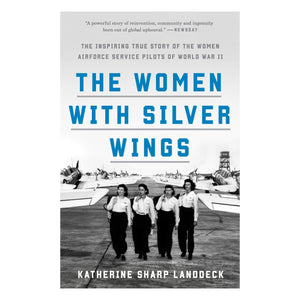 The thrilling true story of the daring female aviators who helped the United States win World War II--only to be forgotten by the country they served.

When Japanese planes executed a sneak attack on Pearl Harbor in December 1941, Cornelia Fort was already in the air. At twenty-two, Cornelia had escaped Nashville's debutante scene for a fresh start as a flight instructor in Hawaii. She and her student were in the middle of their lesson when the bombs began to fall, and they barely made it back to ground that morning. Still, when the U.S. Army Air Forces put out a call for women pilots to aid the war effort, Cornelia was one of the first to respond. She became one of just over 1,100 women from across the nation to make it through the Army's rigorous selection process and earn her silver wings.

In The Women with Silver Wings, historian Katherine Sharp Landdeck introduces us to these young women as they meet even-tempered, methodical Nancy Love and demanding visionary Jacqueline Cochran, the trailblazing pilots who first envisioned sending American women into the air, and whose rivalry would define the Women Airforce Service Pilots. For women like Cornelia, it was a chance to serve their country--and to prove that women aviators were just as skilled and able as men.

By Katherine Sharp Landdeck. Published by Crown Publishing Group, 2020. Paperback, 448 pages.