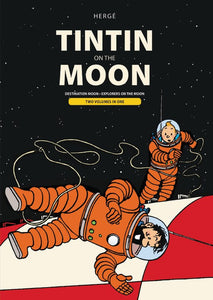 Sixteen years before the first man walked on the moon, Tintin arrived at the satellite's secret space station to do some galactic detective work.
Destination Moon:
Tintin, the world's most famous traveling reporter discovers that Professor Calculus is building a space rocket. Tintin and Captain Haddock are amazed to find that Professor Calculus is planning a top-secret project from the Sprodj Atomic Research Centre in Syldavia. And before our intrepid hero knows it, the next stop on this adventure is...space.
Explorers on the Moon:
Following on from the events of Destination Moon, Tintin finds himself in a rocket on a collision course with the moon. And with Snowy the dog, Captain Haddock, Professor Calculus and the Thompson twins aboard, things quickly spiral further and further out of control.