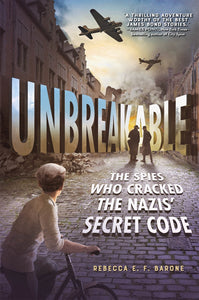 Bomb

 

meets

 

The Imitation Game

 

in this edge-of-your seat, middle grade narrative nonfiction book about a group of codebreakers, spies, and soldiers that cracked the Nazis's infamous Enigma machine, allowing the Allies to read secret military messages and turn the tide of WWII.

During WWII, as the Germans waged war, every Nazi plan, every attack, was sent over radio. But to the Allies listening in, the messages sounded like gibberish. The communications were encoded with a powerful cypher—unless you could unlock the key to Germany's Enigma machine.

Featuring historical photos, Unbreakable tells the story of one of the most dangerous war-time code-breaking efforts ever. As Hitler marched his troops across conquered lands and deadly "wolfpacks" of German U-Boats prowled the open seas, victory—or defeat—for the Allies hinged on their desperate attempts to crack the code. Told in riveting multiple points of view, Unbreakable is perfect for fans of Alan Gratz, Jennifer Nielsen, The Boys Who Challenged Hitler and The Nazi Hunters.

Written by Rebecca E. F. Barone. Published by Henry Holt & Company, 2022. Hardcover, 272 pages.